History of Monnow Valley Recording Studio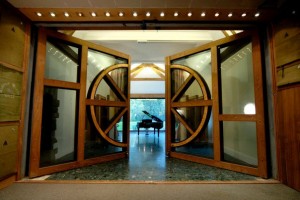 Monnow Valley Studio was originally the rehearsal facility of the world's first residential recording studio, Rockfield Studios, created by brothers Charles and Kingsley Ward. When the brothers went their separate ways in the 1980s, Charles took over Monnow Valley and turned it into an independent recording studio.
Rockfield is still run by Kingsley but Monnow Valley has changed ownership a couple of times over the last few decades. In 2006, Monnow Valley was taken over by siblings Jo and James Hunt and has undergone substantial reinvestment since, including an acoustically engineered control room, new recording equipment, heating, air conditioning, redecoration and improved leisure facilities for the clients, making it one of the best recording studios in the UK.
Over the last 40 years, many of the musical world's biggest artists have used Monnow Valley for writing, rehearsing, or recording, including Led Zeppelin, Queen, Oasis, Stereophonics, Black Sabbath,  and many more. The recent book, Rock Legends At Rockfield by Jeff Collins, documents the history of bands staying at both Rockfield and Monnow Valley Studio.
Here are some old photos of Black Sabbath, Ozzy Osbourne and Randy Rhoads at Monnow Valley in the 1970s: