In The Studio….
Lisbee Stainton

21/04/2013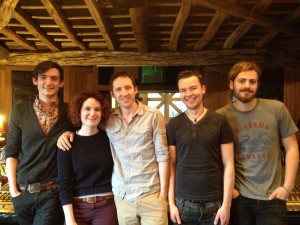 L-R; House engineer Liam Ross, Lisbee Stainton, producer Mikko Gordon, percussionist Cormac, bassist Pete.
Now on her 4th album, yet aged only 25, folk darling (and all round lovely lady) Lisbee Stainton came in armed with a host of talented young men and woman (singlular) to record. We had percussion king, Cormac Byrne; Seth Lakemen popped in and co-writer Eleanor McEvoy came down too. Lisbee has supported Joan Armatrading, Seth Lakemen, Gretchen Peters and Paul Carrack. Her fourth album, Word Games, will be out this autumn, with a tour to follow in November.
Lisbee made special use of our acoustic live room, to record some lovely floor stamps and claps. The marimba also sounded a treat!
Buy Lisbee's last three albums and find all her info here;
http://www.lisbeestainton.com/