Made In Monnow
Black Sabbath Month
Rehearsals and Heart Attacks of '98

Black Sabbath's next visit came in May 1998 prior to their reunion tour – over twenty years after their first visit as the original line up. Following two successful shows in Birmingham in 1997, the band decamped to rehearse for Ozzfest and the upcoming American tour as the original four again; Iommi, Osbourne, Butler and Ward.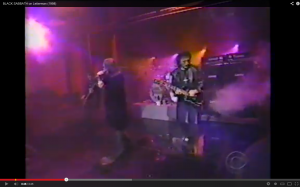 Here are the original four in October 1998 on Letterman playing 'Paranoid. Click on the image for the video.
In an interview with Vintage Guitar below from 1999, Butler and Iommi explain how Monnow and its setting was important to the band, their beginnings and their early memories together – but also how things didn't go to plan in the excitement…
"The house you rehearsed in, was that the same one you worked in when the band started?
Tony Iommi: That house [in Monmouth in Wales], it was where we used to rehearse when we first started. We went back and it was like going back to the beginning, to the same place we started.
Did it feel as if no time had been lost?
TI: It was really good. We took time and all lived together in the house and just got familiar again. We had a laugh, joked, and had food. Then we started playing again and it was great because it all fitted in."
What was the first song you played?
Iommi and Butler; [simultaneously]: "War Pigs."
Did the music naturally come back or did you have to work out any of the original parts?
GB: It was all natural, really. We hadn't played together with Bill on a full set for 18 or 20 years from the original days. He had the most difficult job, so we had to go over stuff with Bill again just to make sure that he was alright with it.
What happened to Bill after the shows in Birmingham? There were reports he suffered a heart attack.
TI: We had done the two shows and recorded them, and that was fine. Then we were due to headline some European festivals. So we got back together in the house in Monmouth and started rehearsing. On the second day he had a heart attack.
GB: Because he was so shocked he got it right (laughs)!
TI: I'll tell you, we were all shocked! Then we opened our mouths and said, "Oh, blimy. It's going quicker than we expected!" And of course, the next thing, Bill had a bloody heart attack. We thought it was all going too good.
Read the full interview here; http://www.vintageguitar.com/2871/tony-iommi-and-geezer-butler/