Made In Monnow
Black Sabbath… 2005 Rehearsals for Ozzfest
Back once again to rehearse, have some home cooked food and stay together as a band ready for 2005's Ozzfest in Donnington. This visit by the whole band was made whilst current owner Jo Riou was here at Monnow, seeing the whole band pass through the history of every owner at the studio.
Members of staff were given tickets to the show at Donnington. One of the guitar techs even brought some old photos of the boys from their early days at Monnow, featuring Ozzy on the upstairs landing in his boots and birthday suit…. It was quite the flash back (ahem).
Prior to Donnington they did a quick warm up gig in Aylesbury Civic Centre, a bizzarely small venue for the rock legends, but hugely successful all the same. Read the report here
Then they were on to Donnington. Here's the fruit of their labours – the whole concert!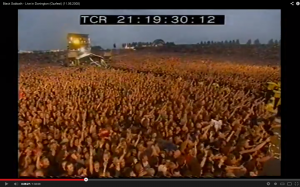 Black Sabbath at Donnington for Ozzfest. Click the image to view the video.