In The Studio…
Brother and Bones
30/7/2013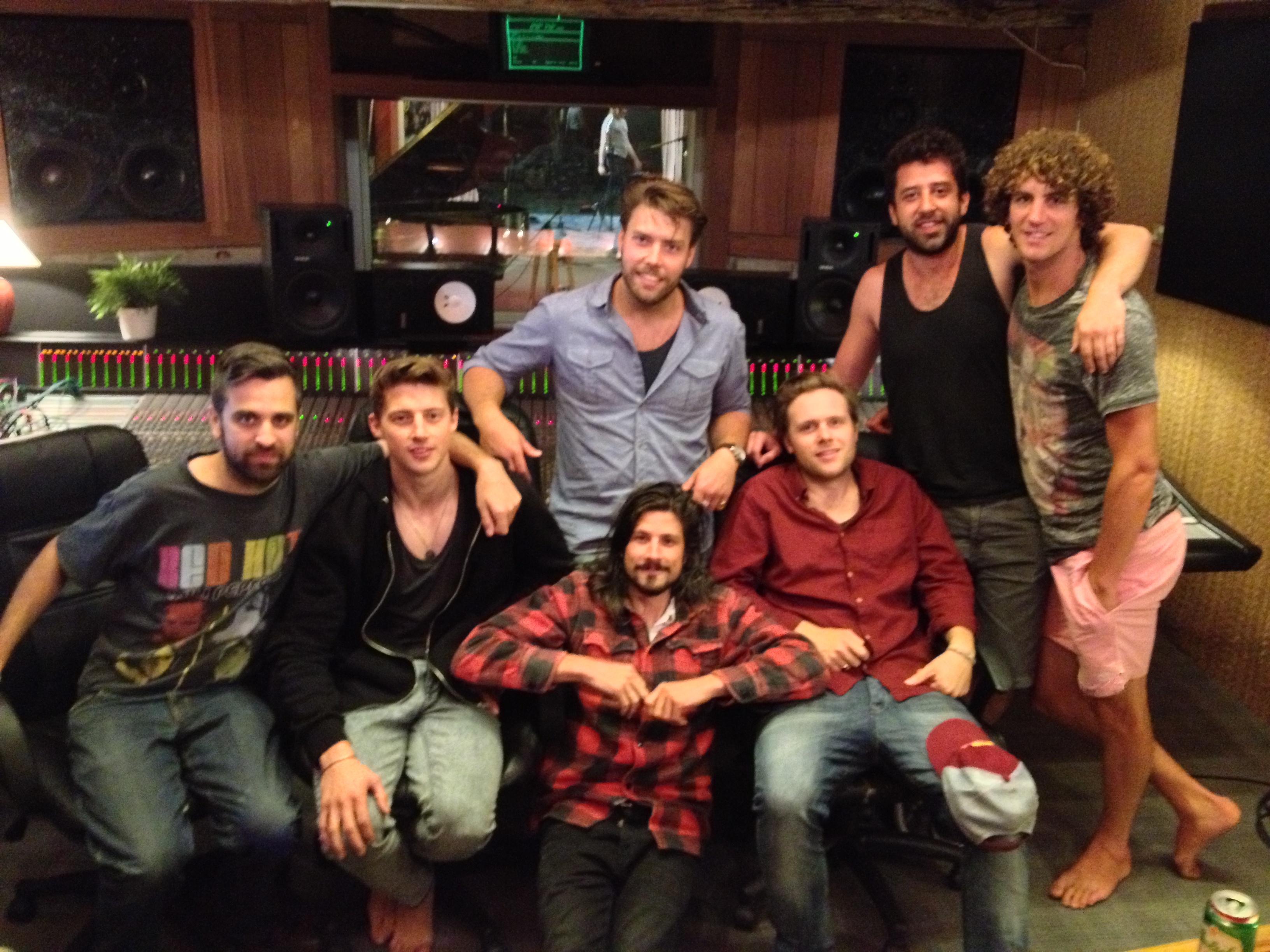 Brother and Bones; L-R Engineer Gareth Cobb, Rob, Rich, James, Si, Yannis, cameraman Luke.
Bridging "the gap bridge the gap between the delicate and the destructive", band Brother and Bones, originating (for the most part) from the South East of England and the beaches of Cornwall, came to us late on the Monday night for a week of sun and music. The band have been relentlessly touring for the past few years and released a few EPs so far, culminating in a successful trip to the US to play Teluride festival just the week before heading to us. The band supported BRIT award winner Ben Howard on his tour last year, we expect big things come 2014, and deservedly so.
They brought lots of eggs, lots of pasta, loads of Double Deckers and lots of good tunes. The drums especially sounded rather large. Much of the recording was done all together, with the glass partitioning doors allowing them to play live together without bleed from the drum room.
Breaks between takes were filled with sandwiches, a few weights in the gym and lots of tea, and come 6pm, lots of beers. Drummer Yannis cooked some incredible food, and also washed and released a small frog we found that had run in through the open back door late on the last night.
Along with their engineer and co-producer Gareth Cobb and camera man Luke Pilbeam (pro at all things ping pong too) the whole week was very lovely – we can't wait to hear these tracks.
Here's a live session filmed by Luke (www.rockingstonefilms.com) – late one night to fill the gap until its release, and be sure to catch them on their highly extensive UK tour this winter, they'll be coming to a town near you for certain.
http://www.youtube.com/watch?v=M3eSOjkbqLE
www.brotherandbones.co.uk
Tour tickets – http://www.brotherandbones.co.uk/live/