In the Studio …. The Graveltones
24/05/2013
Recording their eagerly awaited first album following on from their exciting EP back in 2011, follically well-endowed Australian, London-based boys The Graveltones stayed with us for 7 days. Aside from the amazing cooking smells provided by Mikey's wife and sister (the latter popped over from Australia to see them) they also provided some amazing sounds. Well-known-to-Monnow producer Charlie Francis oversaw the whole thing, including a very important handbell-selection-and-testing session.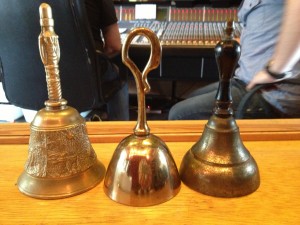 The aforementioned hand bells.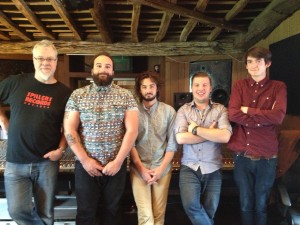 L-R; Producer Charlie Francis, Mikey Graveltones, Jimmy Graveltones, session assistant Louis Griffiths and our engineer Liam.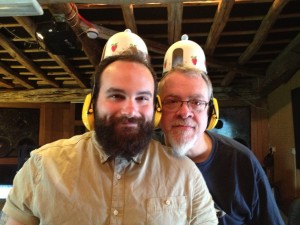 Wild times with the teapot covers.
 Find all things Gravely-and-toney here; http://www.thegraveltones.com/
We can't wait for the album boys!