MADE IN MONNOW

'Pedestrian Verse' (2013) – Frightened Rabbit
We're not delving back into our history that far today, we're keeping our throw-back to a very much recent album Made In Monnow. Back in 2012 we had the lovely Frightened Rabbit in to record with us. They only bagged a top 10 chart position with their album didn't they?
Their first major label release with Atlantic Records, and produced by Leo Abrahams was quite the success, and we're very happy for them – they were wonderful guests!
Find everything Frightened Rabbit-y here www.frightenedrabbit.com
Here's the beautiful, signed vinyl they sent us.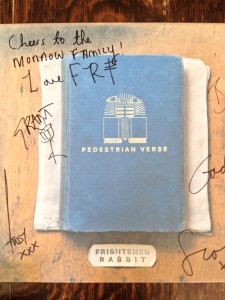 And here they are having drink with Phil and Liam after a bit of village bingo…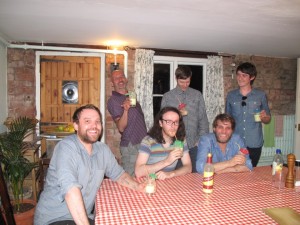 Tracklisting
1 Acts of Man 4:54
2 Backyard Skulls 3:10
3 Holy 3:39
4 The Woodpile 3:28
5 Late March, Death March 4:02
6 December's Traditions 4:10
7 Housing (in) 1:31
8 Dead Now 4:09
9 State Hospital 4:37
10 Nitrous Gas 3:10
11 Housing (out) 1:04
12 The Oil Slick 4:37
13 If You Were Me 2:55
14 Snow Still Melting 3:28
15 Escape Route 3:30