In The Studio…
Our Tomorrow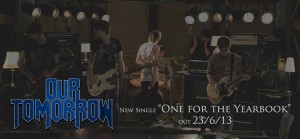 'One For the Yearbook'
Young Welsh band, 'Our Tomorrow' have got their debut music video out today – it was filmed at Monnow and the track itself recorded here with Romesh Dodangoda. Premiering last night with Blank TV, the track has already got over 2000 views!
http://www.youtube.com/watch?v=WS20qT5_O4g&feature=youtu.be
They play next month at Monmouth Festival alongside Peasant's King and new stars on the scene Young Kato.
Keep an eye on these boys – they're on the rise and have been made here in Monnow.
www.ourtomorrow.co.uk