Made In Monnow…. 
Bullet for My Valentine – 'Fever'
2010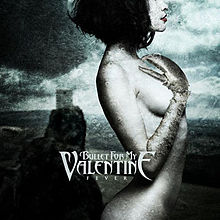 Just up the road in Bridgend live four Welsh boys who form Bullet For My Valentine. They happen to be one of the most successful Welsh exports ever, with success outside of the UK and across the world. They chose to stay local when recording their third album with Don Gilmore at Monnnow.
The stats tally up for the Welsh quartet; over 500,000 copies sold world wide, 5th in the UK album charts and 3rd on the US Billboard charts, Bittersweet Memories is at 6 million views whilst Your Betrayal rests nicely on 16 million. A successful album to say the least…
Tracklisting
Length
1. "Your Betrayal"   4:51
2. "Fever"   3:57
3. "The Last Fight"   4:19
4. "A Place Where You Belong"   5:06
5. "Pleasure and Pain"   3:53
6. "Alone"   5:56
7. "Breaking Out, Breaking Down"   4:04
8. "Bittersweet Memories"   5:09
9. "Dignity"   4:29
10. "Begging for Mercy"   3:56
11. "Pretty on the Outside" BONUS 12. "The Last Flight".
Find all things BFMV here at http://www.bulletformyvalentine.com/