In The Studio….
Made In Monnow
Future of The Left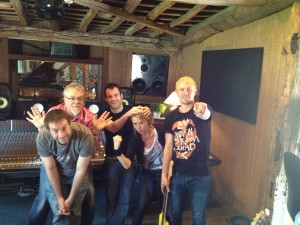 We love to have return clients and even more so when they're as talented and lovely as Future of the Left. The 2012 Welsh Music Prize winners returned to us at the end of June to record their next album with another Monnow Valley regular – producer Charlie Francis. They worked at an incredible rate, completing insane amounts of recording, writing, sampling colourful language from the vocal outtakes and also had time for a bit of a BBQ too. This band especially were all running fiends, legging it round the countryside most mornings or lifting weights in our gym – it's a hard life.
Let's combine our 'In the Studio' post with a little Made In Monnow throwback. Future of the Left have not only done work here before, but two albums worth of work.

First came the 2007 album –
'Curses!'
"The Lord Hates a Coward" – 3:34
"Plague of Onces" – 3:03
"Fingers Become Thumbs!" – 1:50
"Manchasm" – 3:54
"Fuck the Countryside Alliance" – 2:06
"My Gymnastic Past" – 2:30
"Suddenly It's a Folk Song" – 2:55
"Kept by Bees" – 1:54
"Small Bones Small Bodies" – 2:22
"Wrigley Scott" – 2:06
"Real Men Hunt in Packs" – 3:27
"Team:Seed" – 1:19
"adeadenemyalwayssmellsgood" – 3:09
"The Contrarian" – 3:02
Buy 'Curses' here.
They then followed this up with 2009's 'Travels with Myself and Another'
"Arming Eritrea" – 2:57
"Chin Music" – 1:56
"The Hope That House Built" – 3:41
"Throwing Bricks at Trains" – 2:36
"I Am Civil Service" – 2:17
"Land of My Formers" – 2:47
"You Need Satan More Than He Needs You" – 2:46
"That Damned Fly" – 2:07
"Stand by Your Manatee" – 2:08
"Yin / Post-Yin" – 2:54
"Drink Nike" – 2:33
"Lapsed Catholics" – 4:15
Buy 'Travels with Myself and Another' here.
Check out Future of the Left out on @shit_rock. We love their twitter handle.