In The Studio with….
Henry's Funeral Shoe
14/04/2013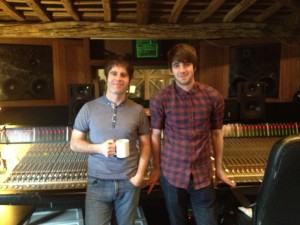 We pride ourselves on recording some of the best Welsh musicians at Monnow, and Henry's Funeral Shoe, drum and guitar playing duo brothers Aled and Brennig.
Whilst currently billed alongside the cream of the crop on the Welsh scene, they're making waves the other side of the pond. Their track Dog Scratched Ear was featured on the Fiat car advert with none other than bad boy Charlie Sheen, and last October the boys were invited to play alongside KISS and other notables in LA.
Watch the Mr. Sheen drive a car to their signature sound…
http://www.youtube.com/watch?v=61BRRdxRkJ0
The boys recorded an incredible 6 tracks in two days here with us for their album 'Mongrel', a re-record/amalgamation of their first two albums and new tracks.
Henry's Funeral Shoes were very kind about us, calling us "very welcoming", saying that we have "top class facilities" and that we're "really helpful", especially our Scottish-ly delightful sound engineer Liam. We're not disagreeing with them either….
Find them on twitter here  – @hfsofficial